Something (else) I'm a little late in posting is the Mid Winter Check in for
Sarah's
Winter Stitching...
I was a little concerned this would be a massive dud as I cant remember getting much done at all really. Still, here goes!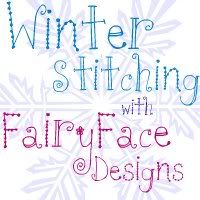 part one - the commitments
1. MUST keep up to date with bee activities! This period should involve 5 or so bee months, cos I've still got Octobers Star blocks to do... and don't forget the Bee Blessed blocks!
1a Do my own blocks from August, and after Christmas start putting my Bee Quilt together!
I am keeping up to date, with everyone elses blocks that is.... still have not done anything about mine! The only one I had started, a paper pieced star, I had given up on as I wasnt liking it to be honest so mum finished it. She loved it so I passed it on :-)
paper pieced star block and Harvey...(Elliecats nemesis)
2. Make another Reversible Bucket Bag
Done. This was the bag in question, made for my brothers wife, for her to give to her brothers wife! I'm very pleased to say that it went down well - with my sister in law and with hers!
3. Make Table Runner OR 6 place mats (deadline 30th November)
Oooh epic fail there. Have revised plan to be oven glove and pot holders....

4. Make the 1 Mini Quilt I've been asked to. (deadline sometime early December)

That's done, and I forgot to take any photos, sorry! Have also been asked for another 2 or 3. Have found out in the mean time that I find it EXTREMELY difficult to do the same thing twice and actually be able to concentrate on it without my brain thinking "oh you've done that before, that means we can switch off and go into automatic behaviour".... Hmmm. Next two should be fun then...
5. Brit Quilt Swap PILLOW FIGHT! pillow cover and wee extra (deadline 20th November)
Done, that was this cushion, in case you've forgotten. (Look away Hadley, its brown ;-)
6. Modern Christmas Table Runner Swap table runner and ornaments (deadline 20th November)
Done. That looked like this.
Or at least that side of it looked like that... lol



7. Christmas making! Boxy pouches, cushion covers, needle cases, pin cushions...
Done! Hardly took any photos, but I did get one of the 3 scarves snapped -
Flannel scarf and square pin cushion
8. Make a quilt for bestie in Germany and her wee bump wee lass!

That is now a WIP... and a secret one at that.... I'm getting there!
part two - I've started so I'll finish
10. Must do a pattern for hand quilting the Not-so-hidden-stars quilt to finish it. (still nothing yet!)
11. Must decide how to go about quilting my Stained pink Quilt.
Done! It has even inspired my first QAL... more on that in a few days...
12. Must get on with my 5" charms quilt top

Yes, I must, really.... just havent yet that's all...


part three - where I wimp out and say that one of the following will do for me ;-)
Dresden needs unpicking and re sewn to fix crappy seam allowance (mum unpicked for me!)
Decide on a palette for Dead Simple QAL
City Quilt that I started cutting ages ago, finish cutting it at the very least! Quilt top is done :-)
Complete cutting instructions for City Weekend I & II
Make City Weekend I taking photos for tutorial
Make City Weekend II taking photos for tutorial
Complete pattern and instructions for Soul Tracks Quilt, then make, photograph and do tutorial.
Attempt a free form "stack and slash" quilt top. I did say attempt, which I've done, I did not say "complete" which I havent...

Ach no' bad really, when I think about it. Fair bit more to go though... And a quilt along and two more swaps can be added to that list. Not clever! Oh well. MUST STOP SIGNING UP FOR STUFF!